Your summer and fall sweater knit!
If you are new to my designs let me back track to last summer when I became completely obsessed with gansey stitches and how fantastic it was to make such fun stitch combinations just from knits and purls! It was endless fun. I dreamt up sweater yokes with so many different stitch combinations, however I didn't have the patience to knit an entire sweater when I headed off on my summer holidays. I wanted something faster, and so I ended up designing a cowl that encompassed several stitch patterns.
The Sea Whisper cowl was a huge success with a super fun pre 12 days of Christmas KAL to boot!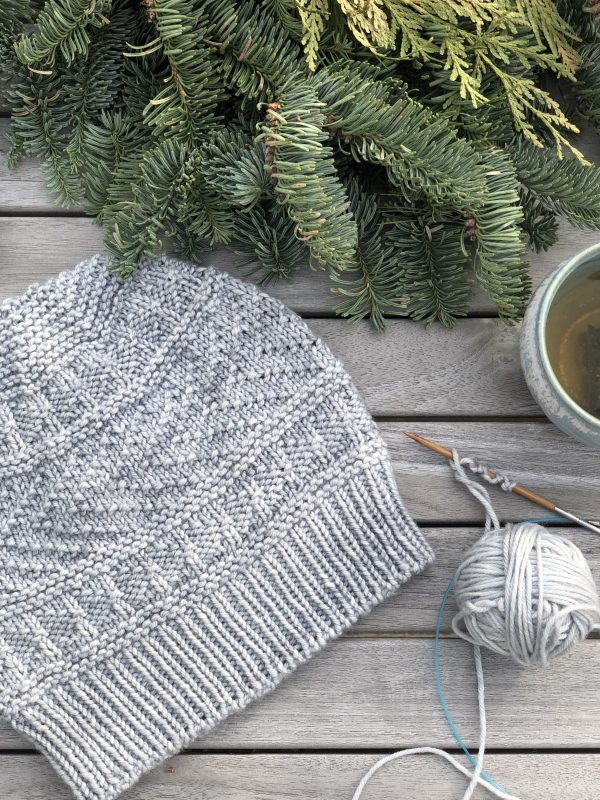 A hat design, Sea Spray, quickly followed using just a couple of elements from the Sea Whisper cowl, and the "Sea" collection started to form. A gansey yoke design kept dinging my synapses over and over, but I was caught up in Brioche mode (you know how addictive that can be!) and so it's only now I can finally, and very excitedly tell you all about my third Sea design, Sea Haven.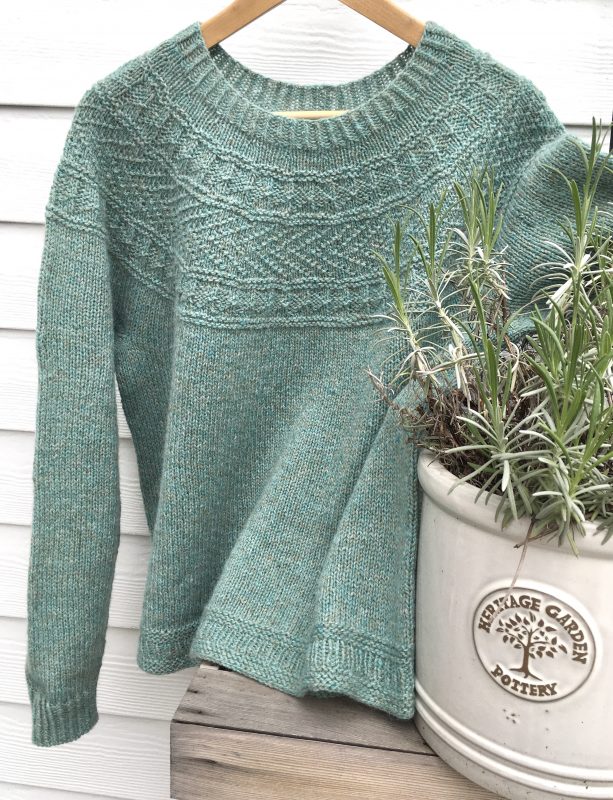 Sea Haven, was almost renamed the Options sweater, as there are so many options to tailor it to the needs of your body and season.
It is a textured yoke sweater and tee worked top-down, in the round.
Choose from two necklines, a wider opening for a summer tee, or a smaller twisted rib neckline. Do you want long or short sleeves? Would you like to include waist shaping for your sweater? It's all here! Sea Haven includes yarn calculations for lengthening your sweater and there are two options for finishing your hem, and sleeve cuffs.
Cast on a summer tee and convert it to a winter sweater in the fall! 😉 Or just knit both! LOL!
Below I've listed all the details, including fantastic yarn kits from The Fibre Co. Have fun browsing all the fabulous colours. Your only dilemma now, is to figure out what neckline to start, and don't worry, if you cast on the non-ribbed neckband there are instructions for adding it back 😉
I truly hope you have as much fun as the amazing test knitters that knit up so many stunning samples – some of which made two! Be sure to browse them here on Ravelry in the Sea Haven projects page.
Have fun and enjoy! Jen Xx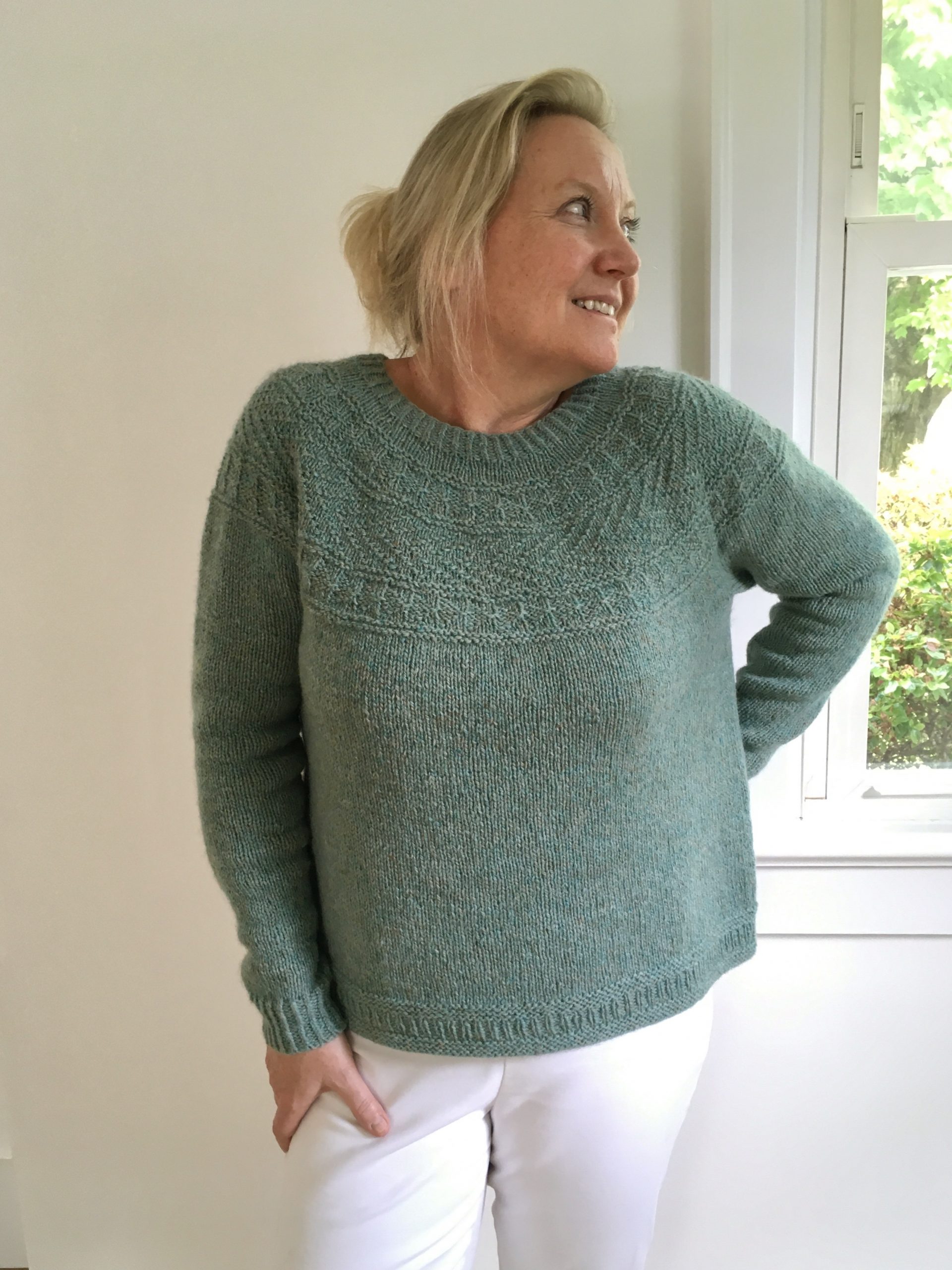 Sizes:
1 (2, 3, 4, 5) [6, 7, 8, 9]
Finished chest circumference:
82.5 (92, 101.25 ,111.25, 120) [128.75, 138.75, 149.5, 158.25]cm
33 (36.75, 40.5, 44.5, 48) [51.5, 55.5, 59.75, 63.25]"
Suggested fit approx. 2.5 – 8.75cm (1 – 3.5") positive ease. Sample shown in size 4 with 8.75cm (3.5") ease.
Yarn used in Sweater Full Length sleeve sample:
The Fibre Company, Lore 100g (250m/ 273yds, 100% Lambswool). DK weight. Sample shown in colour Heaven (sea green).
Yarn used in Short sleeve (Tee) sample:
Sandnes Garn, Tynn Line (held double), 50g (220m/ 241yds, 53% Cotton, 33% Vicose, 14% Linen). Light fingering. Sample shown in Beige (Farge- 3021).
Sweater Full length sleeves:
3 (4, 4, 4, 5) [5, 6, 6, 7] Skeins
298 (321, 363, 398, 436) [ 468, 519, 567, 618] grams
745 (803, 907, 995, 1089 ) [1169, 1298, 1418, 1547] metres
814 (877, 990, 1087, 1189 ) [1276, 1417, 1549, 1687] yards
Sweater Short sleeves:
3 (3, 3, 3, 4) [4, 4, 5, 5] Skeins
212 (234, 266, 295, 326) [351, 362, 429, 469] grams
529 (585, 665, 737, 814) [877, 905, 1073, 1173] metres
578 (639, 726, 805, 889) [957, 988, 1171, 1281] yards
Please note all yarn calculations above are based on Lore from The Fibre Company.
YARN KITS
The fabulous team at The Fibre Co have put together yarn kits for both the
Full sleeved sweater kits in LORE
Short sleeved sweater kits in LUMA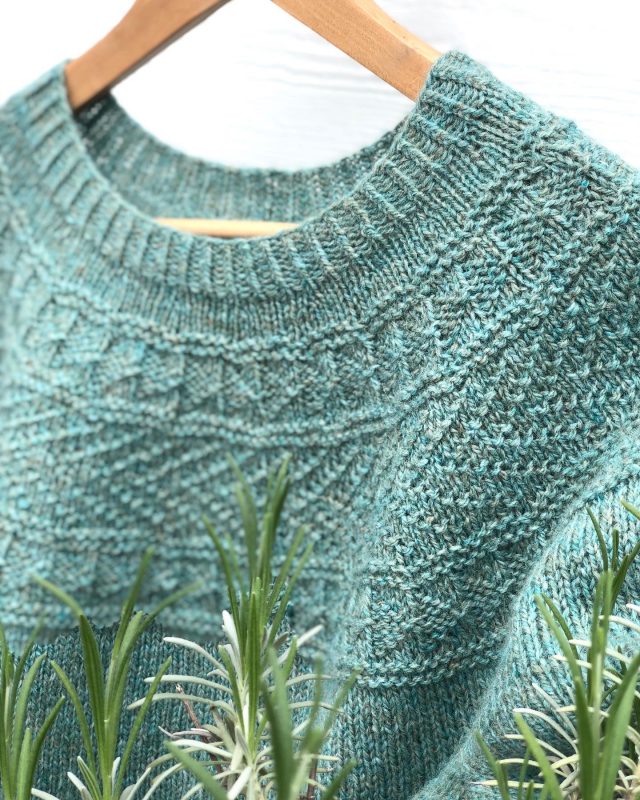 Construction Notes:
Sea Haven is worked in one piece, in the round, from the top down. The EOR marker is placed at the back centre.
There are two neck options for casting on
A ribbed neckband (B1 in schematic).
A non-ribbed neckband (B2 in schematic).
If you cast on the non-ribbed neckband, there are instructions available should you change your mind later and want a ribbed neck band 😉
The textured stitch patterns of the yoke are then knit, followed by some short rows that are worked to the back of the sweater before finishing the yoke to the sleeves and body separation. I recommend blocking your yoke after the back short rows, to allow those textured stitches to relax to their finished width and height. Instructions and guideline measurements for this are given in Appendix 1.
The body is then worked to the hem (straight or shaped waistline), where there are two options,
a twisted rib, or
a garter and rib hem (shown in sweater sample).
Finally, the sleeves are worked from bottom of the yoke to the cuff.
You can shorten/ lengthen this garment by knitting less/ more body length before commencing the hem. Try on as you go and adjust accordingly. Please note that extra yarn will be required if you knit the body length longer than the measurement in the schematic. I have provided a matrix in Appendix 2 to help you work out your extra yarn quantities.
There are several video tutorials linked to this pattern:
German Short rowing.
Jogless Garter in the round – I suggest you watch this before commencing your hem if you are choosing hem option b, so you can determine if you'd like to use this method.
1 x 1 Tubular bind off.