Design inspiration behind the Foss Sweaters
Ever since I cast on E+2 for my Foss [<-click] infinity scarf, after visiting the stunning waterfalls in Iceland, I knew that one day this would eventually "grow up" into a sweater. And it finally has!
The design was inspired by both the Skógafoss and Seljalandfoss waterfalls. Look for the people in these pics for the scale of these magnificent waterfalls. The ribbons of mist are truly magical.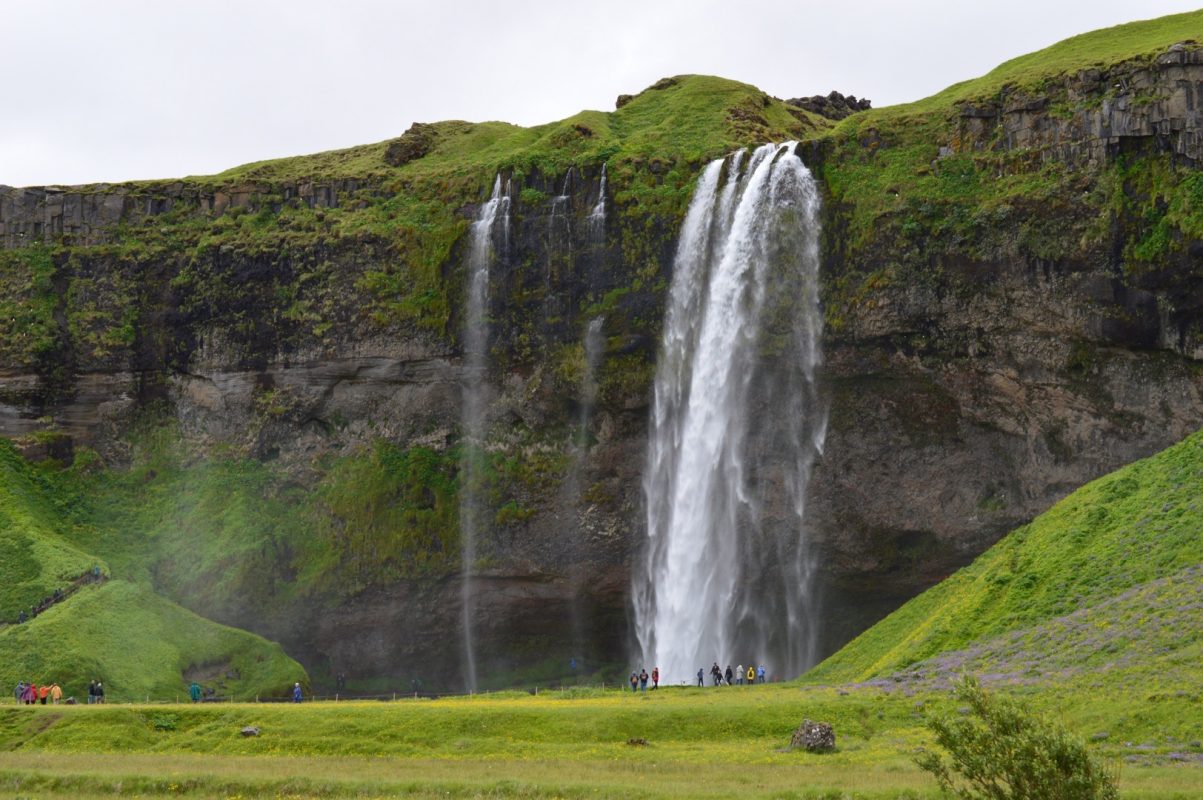 I saw the water like ribbons of fabric dropping off the edge of a cliff. That's my little (at the time) guy in the red jacket behind the waterfall. 😉 Some ribbons of water were more dense than others, and so I traced over these water bands to create the irregular rib pattern for my original Foss design. It was so fun and easy! Scaling that up into multiple sizes for a Male and Female sweater was another story! LOL! But not too bad 😉
In a nutshell, the Foss sweater design comprises 2 patterns – 3 neck finishes – and various lengths.
Foss for Women
The Foss for Women sweater is a drop shoulder design with either a Boat Neck or a Mock Turtle Neck finish. It comes in 2 lengths – full length or slightly cropped. It is an oversized sweater with suggested positive ease of 10-20cm /4-8".
The blue Boat Neck cropped sweater shown here is size 3 with about 7.5cm /3" of positive ease. The Mock Turtle is the full length version in size 4 with 18cm /7" of positive ease. I like a big sloppy sweater for lounging about in, dog walks and feeling snug. The shorter, cropped version can be dressy or casual. Crop it to whatever size you want – just keep trying it on as you knit the body and see what you feel comfortable with, or measure it against another top you like the body length of.
As you can see there are many variations worth exploring with this pattern and all I suggest is – have FUN!
Foss for Men
The Foss for Men sweater has a slight drop shoulder with a Crew neck finish. This pullover has a suggested ease of 5-10cm /2-4". This sample seen here is Men's size 3 with 7.5cm/ 3" of positive ease.
Both sweaters are knit in the round from the bottom up to the arm holes. They are then worked back and forth in the flat, for the front and back. There is a little German Short Rowing in here for the shoulders, and neck shaping for the Men's sweater. If you've never tried German short rows before don't be frightened by them. It's really straight forward and I include a video tutorial to show you how. A 3-needle-bind-off is carried out for a neat shoulder finish. There's a little video tutorial for this also. The sleeves are picked up and knit from the armhole to the cuff. They echo a smaller random ribbing detail.
The Ladies (both the Boat Neck and the Mock Turtle neck) is an especially fun top to wear! Both sides can be worn to the front – so have a play with which random rib side you would prefer to wear to the front. Both sides will look slightly different. Sorry guys – wouldn't really work for yours! LOL!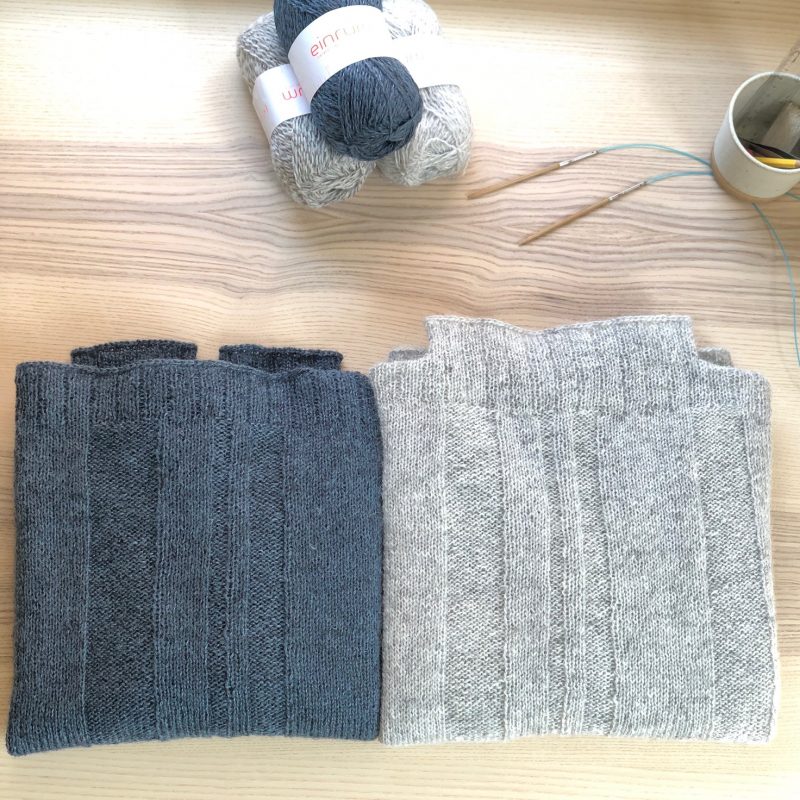 Yarn
The yarn I used for all of these sweaters is Einrum's E+2 yarn [<-click] . It is a beautifully structured yarn. Soft, light and super warm. The fabric produced after blocking is just stunning, full of floating loftiness. The yarn behaves exactly as you tell it to do 😉 And the great news, Einrum is currently shipping yarn worldwide and it's offering FREE shipping internationally.
Gratitude
On a note of gratitude there have been a lot of fantastic people involved in getting this pattern over the finish line. I'd like to personally send HUGE thanks to all the amazing test knitters who gave up their precious time to test knit this for me. Please go and check out their wonderful sweaters on Ravelry. X
Thanks to my amazing Tech Editor, Meaghan Schmaltz – without her Tech Editing, constant support and encouragement, these patterns may never have been released into the wild!! X
Thanks to my inspiring Virtual Assistant, Nadia Seaver of @CottageNotebook, whom always seems to keep me on the straight and narrow 😉 X
50% to W.H.O.
Finally, I'd like to add one more thing. With the world in its current predicament, I've decided that 50% of the proceeds from this pattern will go to the World Health Organisation, initially to help their Covid-19 Relief Fund, and after this, other W.H.O. funds. This donation will continue for the lifespan of these patterns. I thank you in advance for supporting this organisation. They need our help, to help everyone!
Wishing you and your families a healthy and safe spring and summer. Hopefully soon we'll be able to continue to explore the world in all its beauty. Take care!
Jen XOX
Subscribe to my Newsletter [<-click]