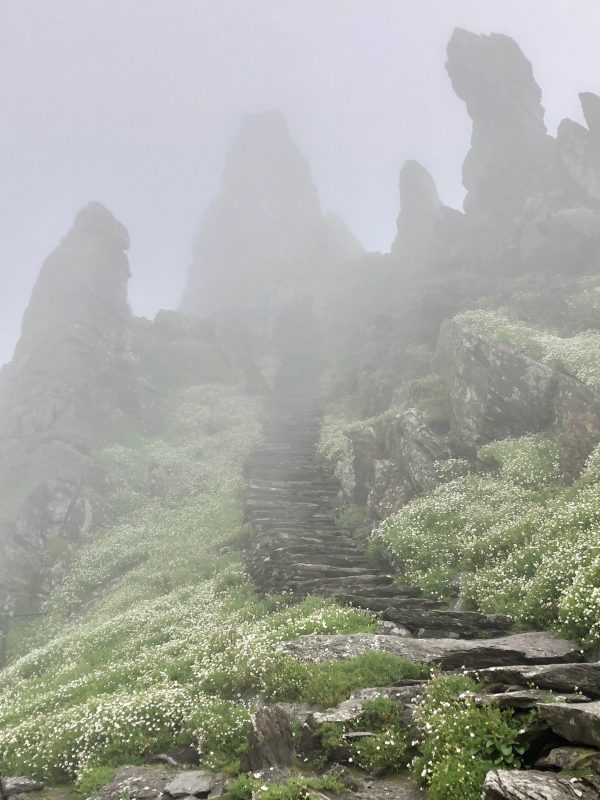 "Well this is one route! Step 452 (according to my little big guy – yes he's counting!) of 700 or so steps to the Monastery at the top of Skellig Michael. This place is just spectacular! The mist seems to want to consume us and is really giving an eerie feeling to the place. It's actually quite magical. We have no idea what's around the next ledge as we cling to the inner side of these steps, as they just climb and climb into the beyond."
Sandstone shards

More steps

Sheer Cliffs

The Monastery Cells
This was my first trip out to the Skellig Islands off the south west coast of Ireland in the summer of 2018. This place is truly awe inspiring and I can totally see why Christian Monks established a monastery here, and indeed the Jedi Temple [Star Wars 😉 ] It may have been a safe place for pure isolated meditative thoughts, but with the sheer cliffs and paths that meander these sandstone peaks and shards that jut out all over this island, maybe "safe" is the wrong word? Check out the bee hive dry stone walled cells that were built between the 6th and 8th century. Imagine constructing these back then at the top of Skellig Michael. Rey [Star Wars] may have been able to use the force to blast them apart in a single screen shot, but the construction, I'm sure, took many years. The walls of these cells are over a metre deep, so wind proof, but I'm not sure cozy comes to mind. LOL!
Mr. Puffin

Weeping Lady rock

Steep! That's the Altanic Ocean down there!
I have so many wonderful photos from that day's adventure. All taken on my iphone as I had stupidly forgotten to pack my SLR that day! And of course no camera can capture the immense beauty of this place. I really recommend you watch the last scene of Star Wars – The Force Awakens for truly amazing aerial views, and yes, I did walk those same steps as Rey, and rest assured the Weeping Lady rock is still in tact 😉 No light sabres about!
So this little Skelligs beanie is one of the designs inspired from this amazing adventure. This twisted rib and reverse stocking stitch slouchy beanie comes in two sizes: Small and Medium – Large. The peaking twisted ribs echo the soaring cliffs and rugged shards of sandstone that jut out from all angles on these Islands. It was knit over a year ago, and I never got around to writing up the pattern until now. The fabulous squishy grey yarn with the hot pink colour pop is by Fiona Waters of Irish owned Green Elephant Yarn (Merino Aran).
There are several more designs inspired from this days adventure brewing in my brain as you can imagine. But I'll leave you now with Mr Puffin eying me up! LOL! These little cuties cover Skellig Michael by the 1000's. Aren't they so super cute?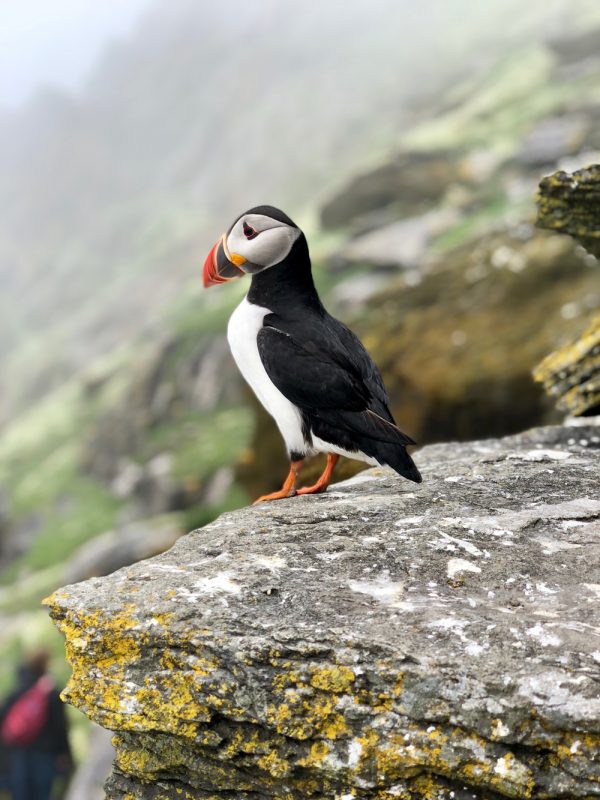 Enjoy knitting Skelligs and I hope this little, dare I say it, blog post, gives you a little more information on one of my favourite places in the world.
Jen XOX.
___________________________
Skelligs is now on PreSale with 20% discount included in the listed price. The pattern will be released in full on January 16th, just in time for you to grab some yarn at Vogue Knitting Live NYC. If you see me there, say Hi!