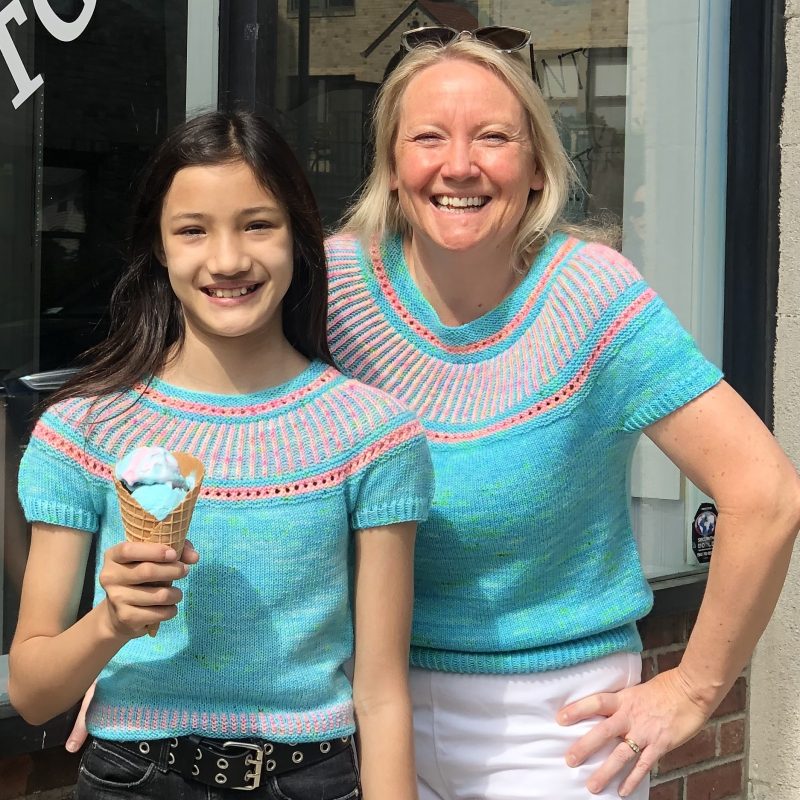 Dishing out the summer fun for kids and adults alike!
Many of you may remember, and even knit, my Tangtastic shawl last year. When I was knitting this shawl last summer, in the cooler temperatures of upstate New York, a friend actually thought I was knitting a summer top! Well, that seed got planted that promptly got forgotten (LOL! – well it was 2020 after all!) that is, until recently. Summerlicious practically knit itself. It's super fun and quite a fast knit. So when I finished working on the adults, I thought to myself, this would make an equally super fun top for kids! And so the second was cast on……
Summerlicious is a semi-cropped top-down tee/ sleeveless sweater that has all the summer fun you'll want! It's lightweight, worked in-the-round, and its very flattering yoke is adorned with two colour brioche and eyelet garter striping. The length is fully customizable, so you can knit it to your own desired length. There are two hem options; an elegant twisted rib, or a fun colourful corrugated rib for more flow and freedom on the waist or hips.
What's more, its sized for Children from 2-4yrs up to Adult 5XL. Finished measurements: 55 (60, 65, 70, 77.5, 87.5, 97.5, 107.5, 117.5, 127.5, 137.5, 147.5, 157.5)cm / 22 (24, 26, 28, 31, 35, 39, 43, 47, 51, 55, 59, 63)". Thirteen sizes in all. So, who will you knit it for first? 😉
Recommended yarns: LolaBean Yarn Co, Wax Bean (80% Merino / 20% Silk; 366m [400 yds] / 100g) in colourway Tropical Starburst (orangey/pink), and Bean Sprout (80% Merino / 20% Nylon; 366m [400 yds] / 100g) in colourway Agua Dolce (blue/green). As you know by now this is my second design using this colour combination and I'll tell you now – this yarn literally sings in the sunshine! It's brings such a happy vibes 🙂
Alternate Yarns: Whilst Lola Bean Yarn Co are taking a well earned break, here is a list of alternative yarns:
Ewe Ewe yarns: https://www.eweewe.com/yarn Fluffy Fingering
Emma's Yarn: https://www.emmasyarn.com/ Any of the Fingering weight yarns
Primrose Yarn Co: https://primroseyarnco.com/collections/adelaide Adelaide Singles or other Fingering
The Fibre Co: https://thefibreco.com/product/canopy-fingering/ Canopy fingering
The Plucky Knitter: https://thepluckyknitter.com/ Any fingering weight yarns
Eden Cottage Yarns: https://www.edencottageyarns.co.uk/ Titus fingering, Titus 4ply or any other fingering yarn
Inspired Fibreworx: https://inspiredfiberworx.com/ Veronica's fingering weight yarns (and there's a shop update on May 29th!)
Town House Yarns: https://thisisknit.ie/ Jenny's fingering weight yarns (and This Is Knit is now opened up the doors after a long lockdown!).
To celebrate its release and its up-and-coming impromptu KAL (June 6th to July 4th – details below) enjoy 15% OFF until June 5th! No code needed. The pattern can be purchased on Ravelry or PayHip.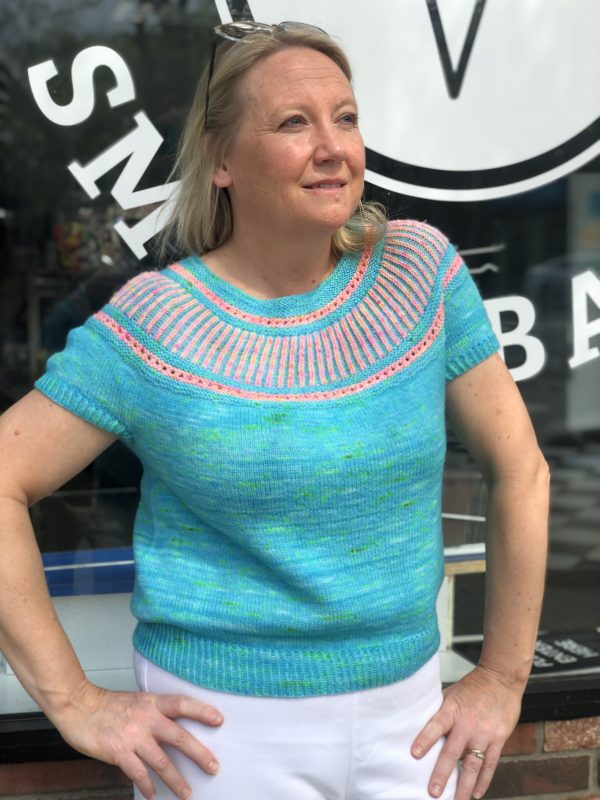 Learn new knitting techniques with video tutorials
TWO COLOUR BRIOCHE
There are several video tutorials included with this pattern. If you've never tried brioche, fear not, this is a great introductory pattern to this wonderful stitch, and I've a tutorial to show you how to knit 2 color brioche, so you have all the help you need.
JOGLESS GARTER IN-THE-ROUND
I recorded a video for my test knitters to show them how to knit garter in-the-round without having that staggered or jogged stitch at the end of each round. I recommend that you watch this before casting on so you can decide what way you'd like to knit the garter sections of the yoke.
GERMAN SHORT ROWING
If you've never tried German Short rowing then believe me, once you do, you'll never go back to a wrap-and-turn method. I've a short 😉 video to show you how this is done. Check out the video here.
Summerlicious KAL – June 6th to July 4th
Ice cream and knitting anyone? As you can see from our photos ice cream was a big factor on the day! We had so much fun! I thought it would be also fun to have a knit-a-long for Summerlicious.
For those who don't know what a KAL is, a KAL or Knit-a-long, is when we all knit the pattern together via an online virtual chat room. I currently use my Raverly group (link) to host my KAL's, along with Instagram. Whilst there's no chat room on Instragam per say, the sharing happens using hashtags, which you can follow, just like following a persons Instagram page. In that way, I can see all of your fabulous work and share it with everyone. So when sharing your photos on Instagram, and other social media platforms, be sure to include the following hashtags #summerliciousKAL #summerliciousTEE
KAL DETAILS:
The KAL will run Sunday June 6th to Sunday July 4th. There will be some prizes which will be announced through out the KAL. I will also hope to be releasing a new summer shawl design sometime during this KAL. So stay tuned for that.
Be sure to pop over here and say Hi and let us know what yarn your thinking of using for your Summerlicious project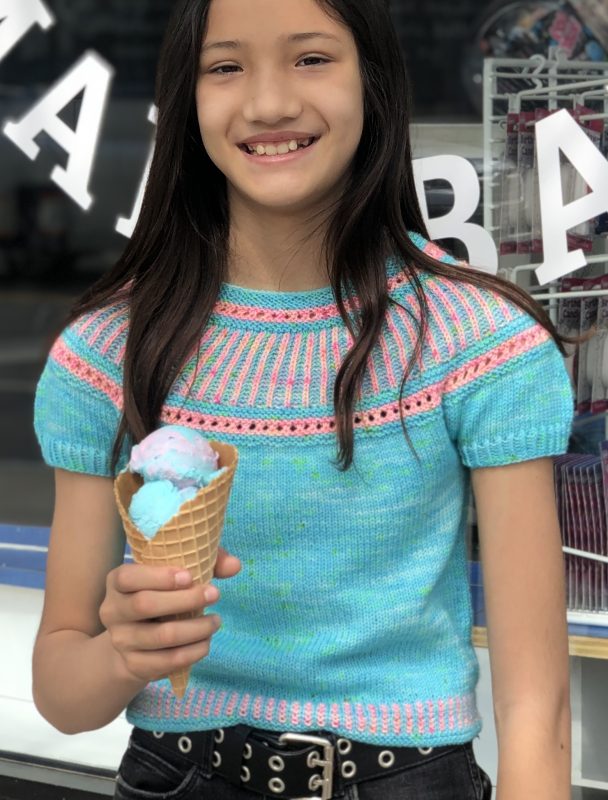 So I hope you are inspired to knit Summerlicious and join us on the KAL. It's a great Brioche beginner project and there'll be lots of fun people on the KAL, to give you help and advice, including myself.
If KAL's are not your thing, and you need help, then don't worry, help is always at hand. Reach out with any questions.
Wishing you long happy days of knitting!
Jen X
A very special Thank you to my photograher, Dingdi Thomas, and her very beautiful daughter XOX